Whole Wheat Rolls
Yields: 6 Servings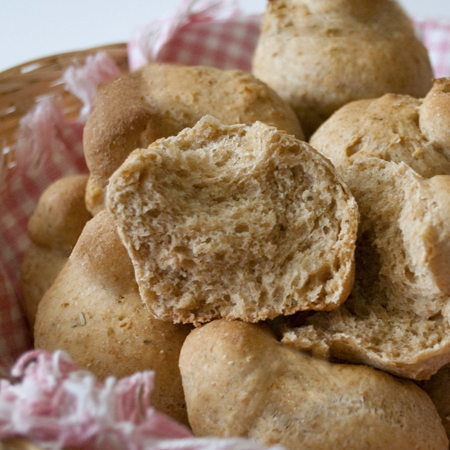 2 c milk
White flour
1 Egg
2 c Whole wheat flour
2 pk Yeast
1 1/2 ts Salt
1/2 c Honey
1/2 c Vegetable oil
Dissolve yeast in milk or water.
Add other ingredients and enough white flour to make a soft dough that can be handled.
Knead 8-10 minutes.
Let rise until double, punch down and let rise again.
Make in rolls of desired shapes.
Let rise until double.
Bake at 350 until brown, about 15 minutes.
MRS WATTS BURKS (ANNA) BEDFORD, VA From the book , Marvell Academy Mothers Assn, Marvell, AR 72366, ISBN 0-918544-14-9, downloaded from G Internet, G Internet..
Nutrition
Calories: 0

Fat:

0 grams

Carbs:

0 grams

Protein:

0 grams