Grilled Flat Bread
Yields: 6 Servings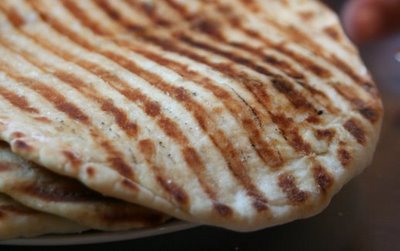 This bread is great by itself, or as a quick grilled pizza crust, or even as quick tasty pita bread for gyros and such.
4 1/2 cups Flour
2 Tbsp Rapid Rise Yeast
2 tsp Salt
2 tsp Sugar
2 tsp Olive Oil
1 3/4 cup Hot Water
Mix up to 4 1/2 cups flour (may be a little less if it's a humid day), sugar, salt, and yeast together.
In a separate cup add 1 3/4 C.
hot water (from the tap, not scorching though...
if it's too hot it will kill the yeast) and then add olive oil.
Mix by hand or in a mixer until the dough is smooth.
Cover for 10 minutes.
Heat up your grill! Split dough in to 6 equal balls, roll into 8 circles.
Brush the top of each circle with olive oil and then pick it up and stretch it roughly 2 times bigger all the way around.
Slap it oil side down on the grill.
Brush olive oil on the top side (you can grind on coarse salt at this point if you eating these alone).
Check the bottom and flip when grill marks are med brown (3-4 minutes)..
Nutrition
Calories: 0

Fat:

0 grams

Carbs:

0 grams

Protein:

0 grams