Peanut Butter Chocolate Chip Banana Bread
Yields: 10 Servings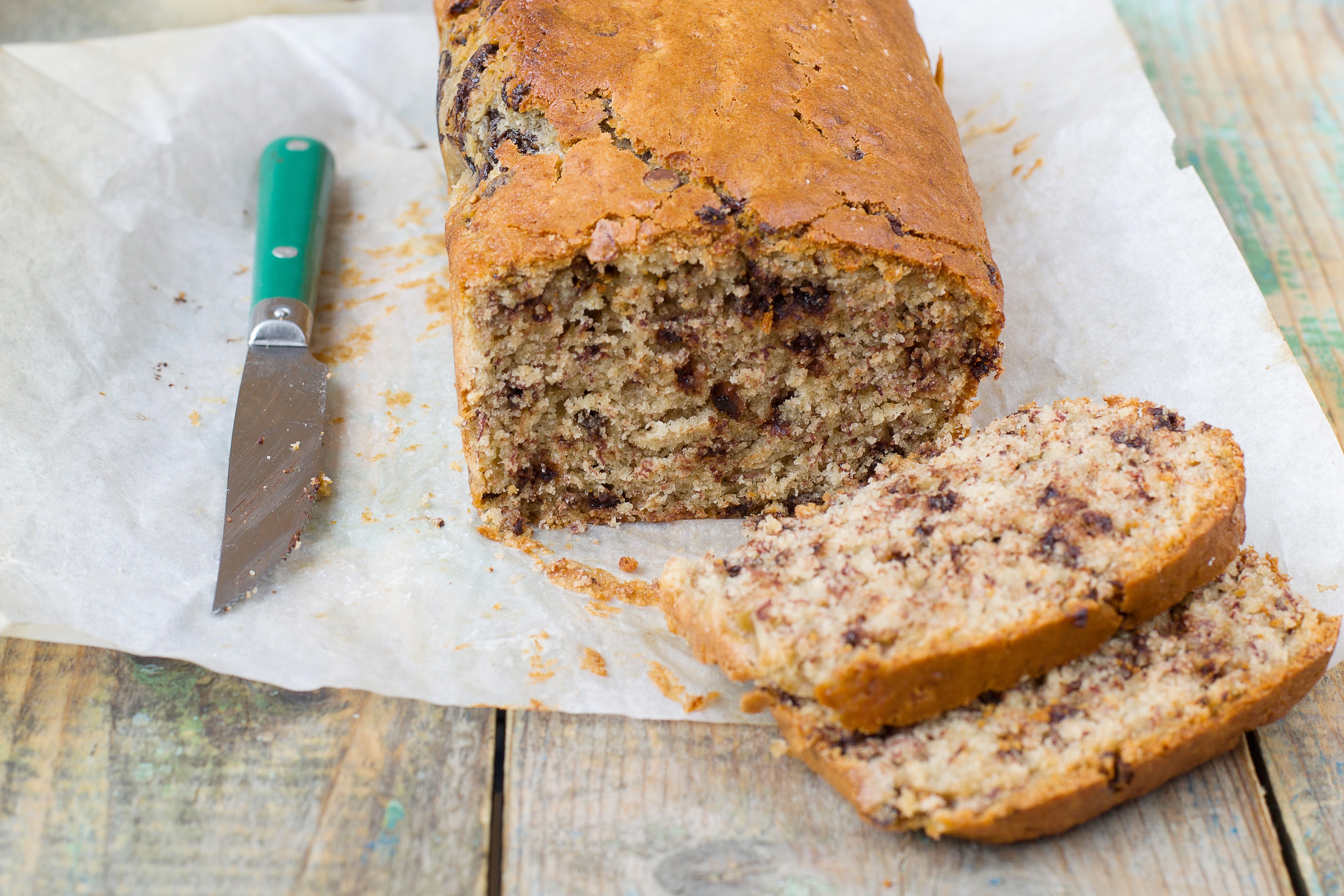 This truly is one of my favorite Banana Bread Recipes. It is more flavorful with the addition of peanut butter and chocolate chips. The sprinkling of chunky sugar on top adds a little crisp to the top crust. Soooo Good!
2 Cups All Purpose Flour
1 1/2 Teaspoons Baking Powder
1/2 Teaspoon Baking Soda
1/2 Teaspoon Salt
2-3 Medium Ripe Bananas
1/2 Cup Creamy Peanut Butter
3 Tablespoons Un-Salted Butter
1/2 Cup Granulated Sugar
1/2 Cup Light Brown Sugar
2 Large Eggs
1 1/2 Teaspoons Vanilla Extract
1/2 Cup Milk
1/2 - 3/4 Cup Semi-Sweet or Dark Chocolate Chips
1-2 Teaspoons Chunky or Turbinado Sugar
Preheat oven to 350 degrees F.
Coat a 9-inch bread loaf pan with cooking spray or butter. In a medium sized mixing bowl, sift together flour, baking powder, baking soda and salt, set aside. In a large mixing bowl, using a mixer on medium speed, beat together mashed bananas, peanut butter, ONLY 2 tablespoons butter, granulated sugar and brown sugar until creamy, aproximately 2 minutes; Next, beat in the eggs and vanilla extract until combined.
Reduce mixer speed to low and add in the milk.
Mix for about 20 seconds.
Add flour mixture and mix until just combined; stir in chocolate chips. Pour batter into prepared loaf pan; bake for 50 minutes or until done.
(Check by inserting a toothpick in the center.
Bread is done when toothpick removes clean.) When done, remove pan from oven.
Melt additional tablespoon butter and brush evenly over the top of bread.
Sprinkle chunky / turbinado sugar over butter coated top.
Return to oven and bake an additional 5 minutes or until golden brown. Cool for 20 minutes before running a knife around outside edges.
Remove Bread and transfer to a wire rack to cool an additional 30 minutes before slicing.
Enjoy..
Nutrition
Calories: 0

Fat:

0 grams

Carbs:

0 grams

Protein:

0 grams