Streusel-Topped Pumpkin Bread
Yields: 12 Servings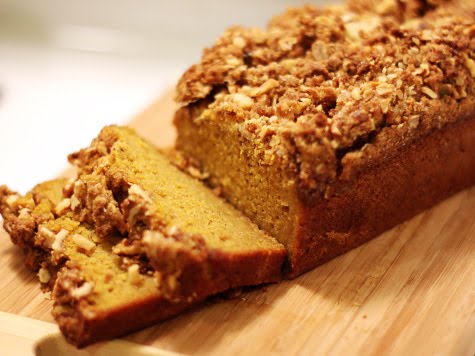 I usually double the recipe to use up a whole can of pumpkin and make two loaves instead of one. Freezes beautifully.
Stir together until well combined:
1/3 cup water
1/3 cup vegetable oil
1 cup pumpkin puree
2 Eggs
Sift together:
1 1/4 cups sugar
1 2/3 cups flour
3/4 tsp baking soda
3/4 tsp cinnamon
1/4 tsp nutmeg
1/4 tsp ginger
3/4 tsp salt
Streusel topping:
1/3 cup flour
2 tbsp brown sugar
1 tsp cinnamon
1 tbsp firm margarine
Stir pumpkin mixture and flour mixture together just until mixed.
Pour into greased loaf pan.
Combine streusel ingredients together with a fork until crumbly and pea-sized.
Sprinkle over loaf.
Bake at 350f for 45 or 50 minutes..
Nutrition
Calories: 0

Fat:

0 grams

Carbs:

0 grams

Protein:

0 grams