California Pizza Kitchen Pizza Crust
Yields: 4 Servings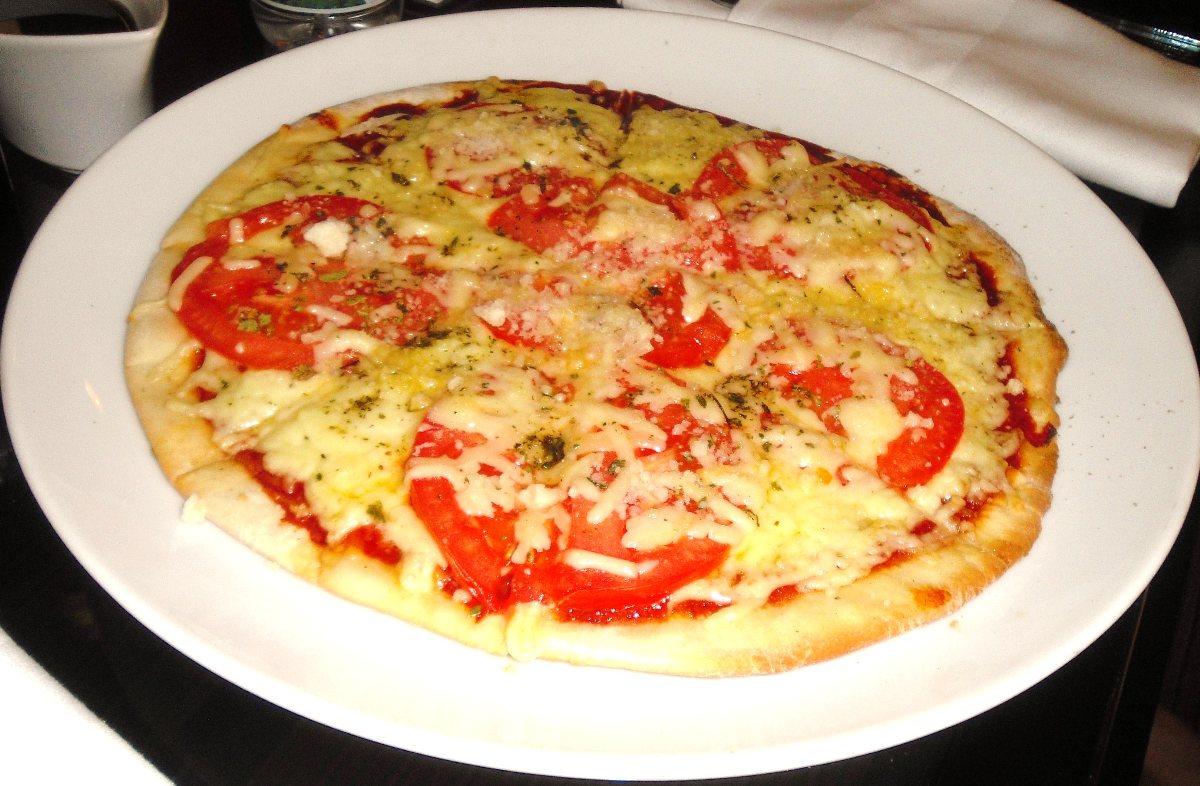 1 tb Extra Virgin Olive Oil
1 tb Warm water
1 ts Yeast
1/2 c Plus
2 ts Sugar
1 1/2 c Bread flour
1 ts Salt
Recipe By: The California Pizza Kitchen Cookbook To prepare dough: Dissolve yeast in water and set aside for 5 to 10 min..
Be sure that water is not too hot: Temps over 120 will kill the yeast.
UPRIGHT ELECTRIC MIXER: Use mixing paddle attachment because batch size is too small for the dough hook.
Combine all other ingredients.
Add dissolved yeast.
Use the lowest 2 speeds to mix dough.
Mix 2-3 min.
until dough is smoth and elastic.
Overmixing will produce tough, rubbery dough, and friction will cause dough to rise too fast.
IF USING FOOD PROCESSOR: Use dough blade.proceed as in preceeding instructions.
IF MIXING BY HAND: Place dry ingredients in a 4-6 qt mixing bowl , make a well in the middle and add liquids.
Use a wooden spoon to combine.
Lightly oil hands and knead for 5 minutes.
When done the dough should be slightly tacky.
LIGHTLEY OIL THE ball and the interior of a 1 qt.
glass bowl.
Place dough ball in bowl and seal bowl air-tight with clear food wrap.
Set aside at room temperature to rise until double in bulk: 1-1/ 2 hrs.
The dough could be used now BUT it would be NOTHING SPECIAL! To obtain that wonderful, chewy, flavorful dough that it will later become, punch down dough, reform a nice round ball and return it to same bowl; cover again with clear plastic wrap.
Place bowl in refrigerator overnight, covered airtight.
About 2 hours before you are ready to assemble pizza, remove dough from fridge, use a sharp knife to divde dough into 2 equal portions.
Roll smaller dough into round balls on a smoothe surface; seal any holes by pinching.
Place the dough balls in a glass casserole dish, space far enough to allow each to rise until doubled in size (about 2 hrs.).
They should be smooth and puffy.
To stretch and form dough for pizza, sprinkle flour on smooth surface.
Use a spatula to carefully remove dough ball from casserol dish.
Be very careful to preserve its round shape.
Flour the dough liberally.
Use your hand or rolling pin to press dough down forming a flat circle about 1/2" thick.
Pinch dough between your fingers around edge forming a 1/4" rim.
Continue this outward stretching until you have reaached a 9" diameter pizza dough.
Yields ennough dough for 2- 9" pizzas.
After topping pizza transfer to pizza stone in preheated oven.
The stone should be preheated at 500 degrees for 1 hour.
Bake 8 to 10 min.
NOTE: I was really sorry I did not double this recipe the first time I made it!!!!!! It is sooo delicious we ate more (and wanted more)! For something diffrent (and quite good) try " The Original Bbq Chicken Pizza".
Posted to MM-Recipes Digest V3 #190 Date: Mon, 08 Jul 1996 23:12:15 +0000 From: Cheryl Gimenez .
Nutrition
Calories: 0

Fat:

0 grams

Carbs:

0 grams

Protein:

0 grams